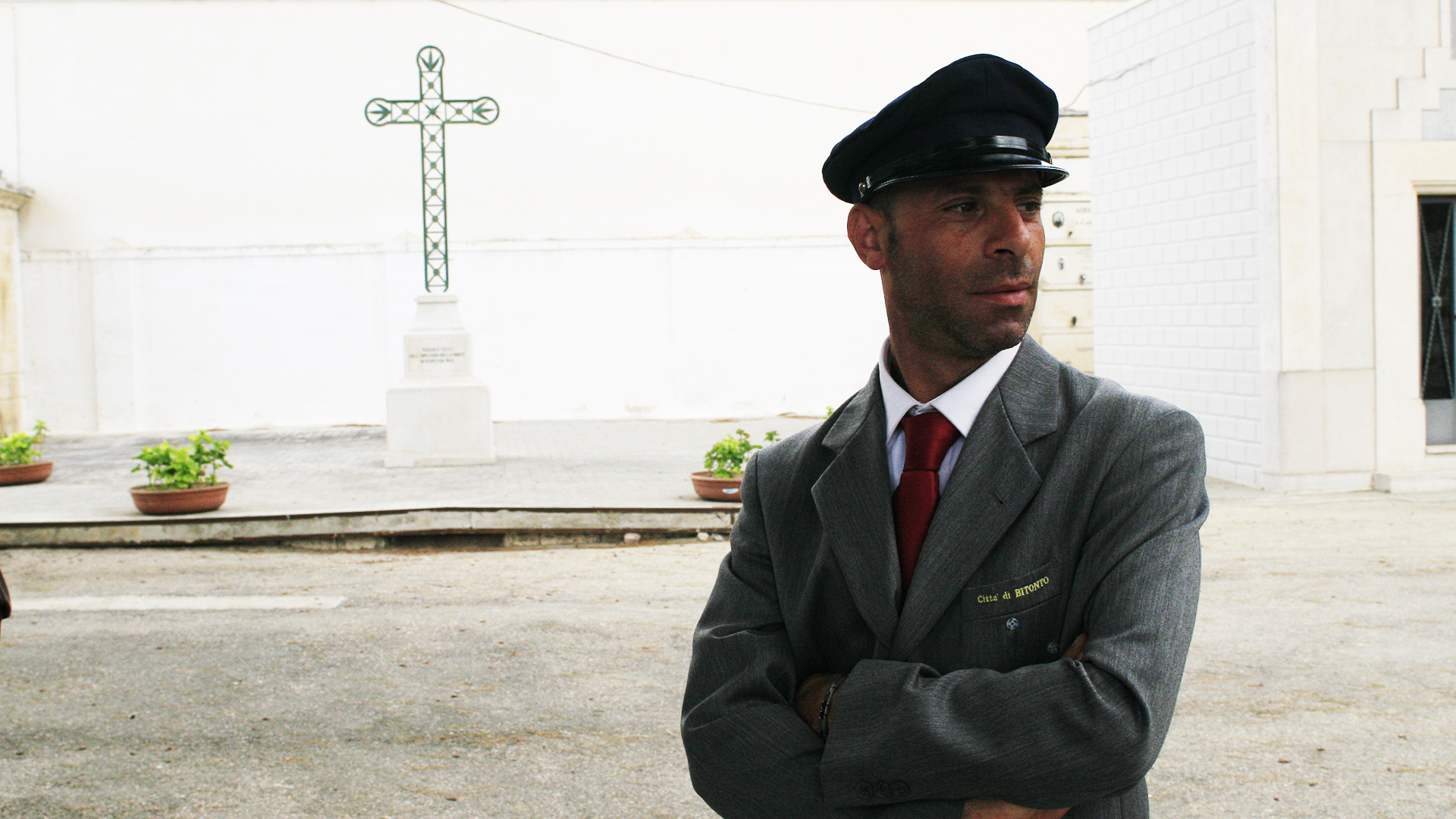 2008
Pinuccio Lovero. Sogno di una morte di mezza estate
Pinuccio Lovero sogna da sempre di fare il becchino. A quarant'anni finalmente è stato assunto a tempo determinato come custode del cimitero di Mariotto, frazione di Bitonto, profondo Sud bollente. Nel mezzo di un'estate torrida, aspetta il suo primo funerale. Perché, dal giorno del suo arrivo cinque mesi fa a Mariotto nessuno è ancora passato a miglior vita. Pinuccio smania, i paesani esultano. Ma, prima o poi, qualcuno morirà e Pinuccio fiducioso aspetta, fermo davanti al cancello del 'suo' cimitero.
Il becchino precario Pinuccio Lovero e tutti coloro che partecipano quotidianamente alla sua vita, offrono l'occasione di un viaggio in una provincia meridionale, fotografata a un passo dalla sua inesorabile estinzione. Zona protetta ancora per poco, fatta di devozione, feste di paese, coralità, vicoli e dialetto. Pinuccio si rivela una guida ideale nel raccontare una vita, la sua, precaria in ogni senso, ma nel corso del racconto lo scopriamo anche, a poco a poco, come filosofo del quotidiano, capace di esporre tesi esilaranti, bizzarre e tuttavia condivisibili sul senso della morte, dell'amore e del lavoro.
Trailer
Prodotto da
Vivo film, Makò Show & Tourism e Fanfara Film con il sostegno di Apulia Film Commission and Comune di Bitonto.
Cast tecnico e artistico
Scritto da: Pippo Mezzapesa e Antonella Gaeta
Diretto da: Pippo Mezzapesa
Prodotto per Vivo Film da: Gregorio Paonessa
Aiuto regia: Vito Palmieri
Organizzazione generale: Sabrina Mastroviti
Scenografia: Miky De Palo
Musiche originali: Cesare Dell'Anna, Umberto Smerilli
Suono in presa diretta: Michele Tota
Montaggio del suono e mix: Mirko Perri
Fotografia: Michele D'Attanasio
Montaggio: Andrea Maguolo
Dati tecnici
Anno: 2008
Durata: 62 min
Paese: Italia
Lingua originale: italiano
Formato: colore, HD/DCP – 16/9
Festival e premi
65ª Mostra Internazionale di Arte Cinematografica di Venezia (52', digital, 2008).
Salina DOC Fest; Panoramica.
IDFA – International Documentary Film Festival Amsterdam.
Sudestival – Sguardi di Cinema Italiano.
Per il Cinema Italiano.
Festival International de Programmes Audiovisuels de Biarritz FIPATEL.
Doc Point.
Zagreb Dox.
PREMI
"Academy Awards" Migliore Commento Musicale Originale and Menzione Speciale della Giuria (Premio Libero Bizzarri – DOC Film Festival)
Terzo Premio Sezione "Oltre il Muro" (Maremetraggio – ShorTS International Film Festival)
Segnalazione della Giuria (Genova Film Festival)
Premio "Golden Flower" (Flower Film Festival)
Menzioni Speciali Under 35 Documentario (Martini Premiere Award)
Premio Migliore Documentario (Italian DVD & Blu-Ray Awards)
Premio Giuria dei Ragazzi (Mediterraneo Film Festival).