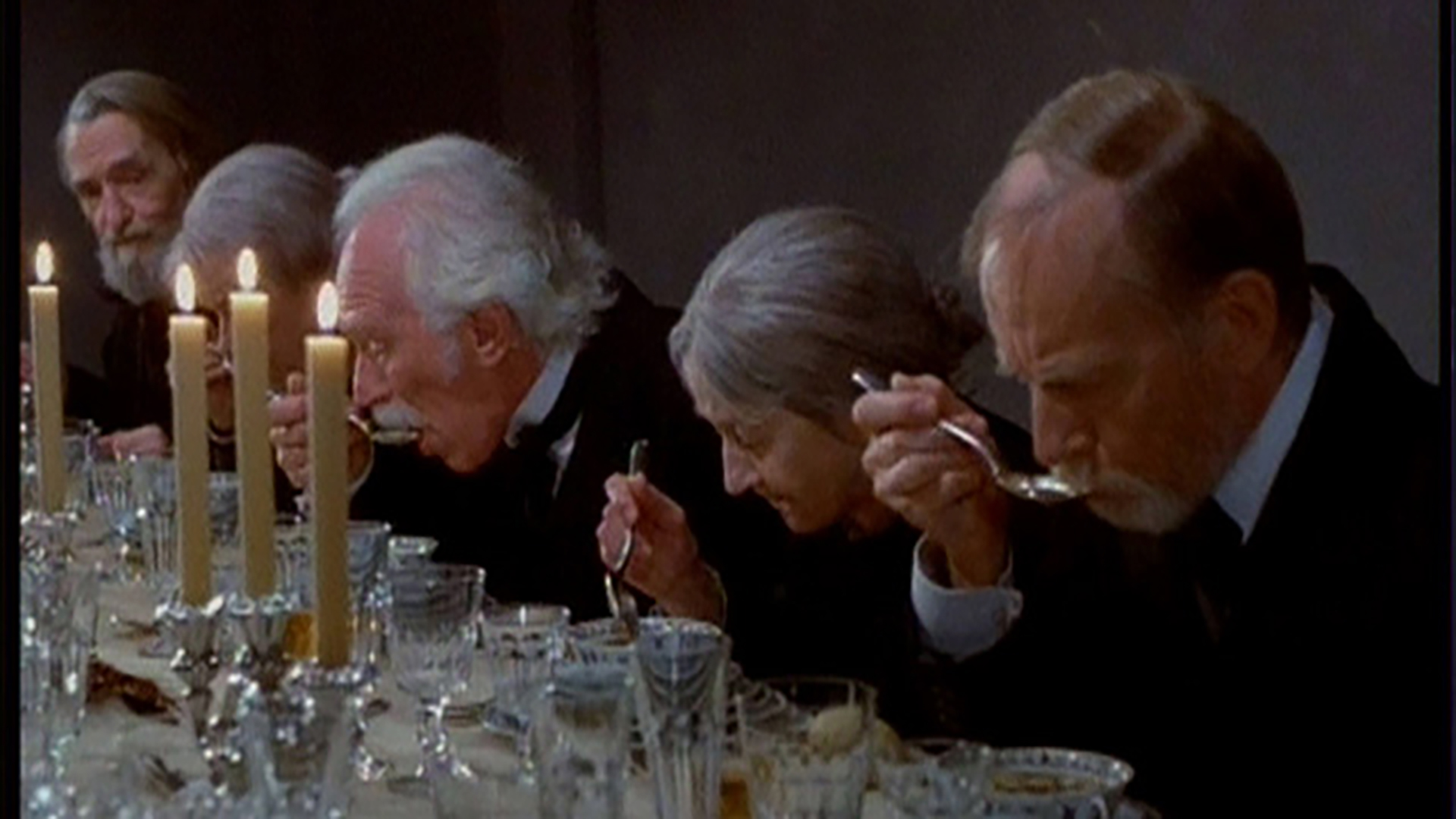 2008
Le cinéma passe à table
A FILM BY ANNE ANDREU
(2005)
a Cinétévé production
with the participation of TSR, RTBF, BETV and CNC
with Gabriel Axel, Laurent Bénégui, Jean-Claude Carrière, Sergio Castellitto, Claude Chabrol, Noëlle Châtelet, Jean-Loup Dabadie, Gérard Depardieu, Park Chan-Wook, Michel Piccoli, Michael Sandler, Thomas Vinterberg, Wong Kar-Wai
footage: ANGEL by Ernst Lubitsch, QUE LA BETE MEURE by Claude Chabrol, LE DINER DE BABETTE by Gabriel Axel, FESTEN by Thomas Vinterberg, LOULOU by Maurice Pialat, LA GRANDE ILLUSION by Jean Renoir, AU PETIT MARGUERY by Laurent Bénégui, BELLA MARTHA by Sandra Nettelbeck, LE CHARME DISCRET DE LA BOURGEOISIE by Luis Bunuel, LA GRANDE BOUFFE by Marco Ferreri, OLD BOY by Park Chan-Wook, IN THE MOOD FOR LOVE by Wong Kar-Wai, TAMPOPO by Juzo Itami
France, 52', colour, digital 4/3
© France, Cinétévé
Italian distribution: Vivo film
As soon as it gets to be the object of the indiscrete look of the camera, food finds his own narrative space in cinema works. It is not about the mere description of dishes. As it is being shot and interpreted, the laid table tells about the details of the world and the social environment where the characters act. It is the expression of their soul, it tells about the evolution of their feelings, of their costumes, the sensorial and perceptive limits of what can be shot.
With LE CINÉMA PASSE À TABLE, Anne Andreu reveals the secrets hidden behind the great convivial scenes of the seventh art, inspecting every cinematic genre: one can admire the images of past masterworks such as ANGEL, LA GRANDE ILLUSION, LE CHARME DISCRET DE LA BOURGEOISIE, LA GRANDE BOUFFE, and more recent works, already deemed classics, such as IN THE MOOD FOR LOVE, OLD BOY or FESTEN.
Filmmakers and actors (among others, Claude Chabrol, Gérard Depardieu, Michel Piccoli, Sergio Castellitto, Jean-Claude Carrière, Gabriel Axel, Wong Kar-Way) tell about their experience in the domain of gastronomy portrayed as an art.